Archive
Campionati del mondo di Sci nordico Fiemme Trentino 2013
Dettagli

Categoria principale: Archivio Eventi
Categoria: Eventi nel 2013
Campionati del mondo di Sci nordico Fiemme Trentino 2013
MVartindesign in collaborazione con la ditta Ciresa di Tesero realizzerà un esemplare dell'opera scultorea sonora dedicata ai Campionati del Mondo di Sci Nordico Trentino Fiemme 2013. Sarà la prima opera d'arte sonora realizzata in parte con acciaio, leghe speciali e carbonio, e in parte con il legno di risonanza di Fiemme.
Per i collezionisti saranno a disposizione altri 8 esemplari numerati (1/9)
Ricordiamo che la Val di Fiemme è nota in tutto il mondo per il suo pregiato abete rosso apprezzato dai liutai di tutto il mondo. Questa opera d'arte rientra nella categoria delle 'opere uniche' poiché non ne saranno realizzate più di nove esemplari.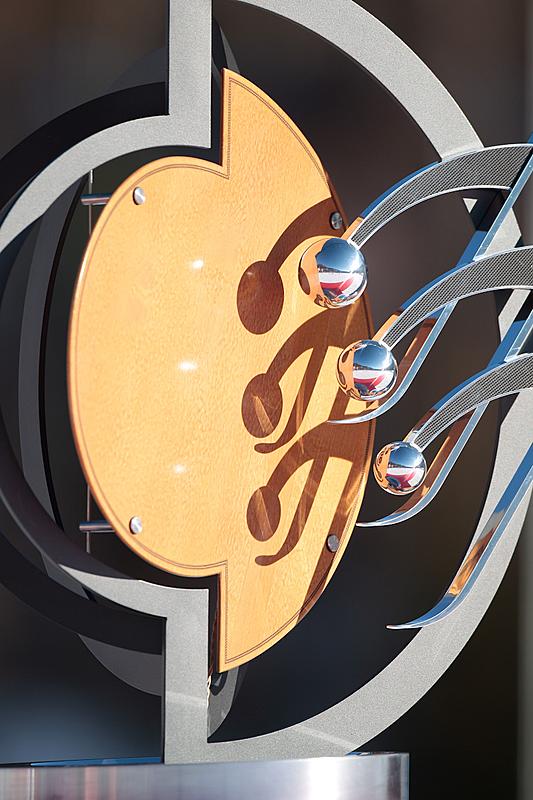 Il primo di questi esemplari, che rappresenta il pianeta Terra sugli sci di fondo, sarà collocato nella Sala d'Ascolto Ciresa di Tesero già dall'autunno 2012. Il secondo sarà installato nella Sala Stampa dei Campionati Mondiali 2013, al Palacongressi di Cavalese, durante l'evento sportivo programmato dal 20 febbraio al 3 marzo 2013. Il terzo sarà esposto, durante i Mondiali 2013, nel palazzo storico della Magnifica Comunità di Fiemme che, per l'occasione, ospiterà anche una mostra con alcune opere scultoree della MV Art in Design, e con gli strumenti musicali storici della Fondazione Stradivari di Cremona e con gli strumenti conemporanei realizzati con le tavole armoniche Ciresa (violini, violoncelli, chitarre, pianoforti, ecc.).
Queste tre consegne saranno descritte dai numerosi mass media che seguiranno l'evento mondiale. Basta pensare che solo per i Campionati del mondo 2013 saranno presenti 20/25 televisioni italiane ed estere, si stimano oltre 500 milioni di telespettatori in 10 giorni di gare, oltre 500 giornalisti e fotografi accreditati. L'opera d'arte collocata a Tesero, fin d'autunno, potrà essere fotografata e filmata dalle numerose televisioni e dai giornalisti che saranno invitati a realizzare servizi sulla Val di Fiemme dall'Ufficio Stampa dell'Apt Val di Fiemme.Una delle tre opere sarà donata ad uno dei vincitori dei Campionati del Mondo di Sci Nordico 2013, oppure ad un Ospite illustre dei Campionati, nel 2003 venne ospitato il Re di Norvegia e il Re di Svezia oltre al Presidente della Federazione Internazionale dello Sci, e altri personaggi del mondo dello spettacolo, dello sport e della politica Nazionale.
Alla chiusura dei campionati del mondo Fiemme 2013 l'opera  "Chi scia sa volare", sarà donata alla FIS Federazione Internazionale di Sci e troverà posto, in permanenza, al Museo di Losanna in Svizzera.
Scarica qui il programma dei campionati del mondo
Scarica il documento
Albeit most men don't like to talk about them sexual desires, many men are affected by erectile disfunction. Some families know that remedies are made to treat diseases, but they can hurt us if taken incorrectly. Cialis is one of the best-known medicines of all day. Presently divers articles were published about The cost of both Levitra and Cialis. At present, there are variant options for men who suffer from this health problem. Very likely each man has heard about "Cialis or Levitra". Other question we are going to is "". Such problems mostly signal serious heartiness problems: genital contagion or erectile dysfunction can be the symptom a serious soundness problem such as diabetes. Tell your sexual physic specialist about all medicines you use, and those you start or stop using during your treatment with the generic.